Welcome to Robert Pattinson Online, your ultimate online fan source for actor and model, Robert Pattinson. Robert shot to fame in 2008 when he started as Edward Cullen in the Twilight saga movie franchise. you may also know him from other movies including Good Time, The Lighthouse, The Rover, Maps To The Stars, life, Remember Me, High Life, to name a few. Robert is also the celebrity face of high-fashion campaigns for Dior. With a lot of new exciting projects coming this year, we'll bring you exclusives news. We hope you'll have a wonderful time on the site.
posted by Laura
Robert Pattinson and Matt Reeves will attend the DC Fandome on 22 August 2020 (today)! Warner Bros will welcome fans everywhere into the DC FanDome—a free virtual fan experience! We are very excited as Matt and Robert will present an exclusive teaser of The Batman and we could get more surprises. We already get the Logo and a fan poster for The Batman and we can't wait to see what is going to happen today! See the schedule below.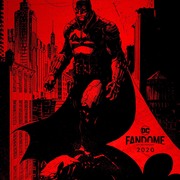 The Batman Panel –  5:30 PM PT (Los Angeles) /8:30 PM ET (New York) /2:30 AM CEST (Paris)
Matt Reeves and Robert Pattinson (and maybe more gests? Zoe Kravitz?) will join Aisha Tyler for a discussion on the upcoming movie, The Batman.
DC FanDome Live Stream
DC FanDome is free but you will need to create an account on DCFanDome.com in order to watch the event. You'll then be able to access each panel via the DC FanDome program scheduler.
We will watch it live, so do not hesitate to follow us
on Twitter as we'll share everything related to The Batman!