Welcome to Robert Pattinson Online, your ultimate online fan source for actor and model, Robert Pattinson. Robert shot to fame in 2008 when he started as Edward Cullen in the Twilight saga movie franchise. you may also know him from other movies including Good Time, The Lighthouse, The Rover, Maps To The Stars, life, Remember Me, High Life, to name a few. Robert is also the celebrity face of high-fashion campaigns for Dior. With a lot of new exciting projects coming this year, we'll bring you exclusives news. We hope you'll have a wonderful time on the site.
posted by Laura
Today you can discover a new promotional still of Robert Pattinson in Tenet and many new behind-the-scenes photos. I09 (go read their article) exclusively shared a sneak peek into The Secrets of Tenet, a book by James Mottram.
Out July 31, you can pre-order the book on Amazon! This new book gives readers a behind the scenes look at the production of the film, including interviews with the cast, crew and production staff.
"Again, Washington and Robert Pattinson made daring contributions to the scene, performing the initial moment of their characteirs' leap from the tower and the beginning of their descent. A small platform, measuring eight feet by ten feet, was hung just below the lower balcony. We had real John David and real Rob jump over and land on that platform. Obviously we had them on the line the whole time. But they really stood there, and they really did that initial jump over, landed on that platform and then climbed back. It was incredible. Chris was very, very happy that he gets to have that as part of his cut."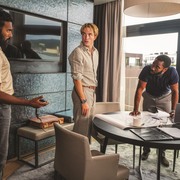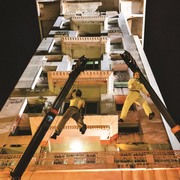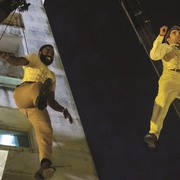 Here are The Secrets of Tenet scans preview (UHQ)! Thank you to the Insight Editions for sending them to us.