Welcome to Robert Pattinson Online, your ultimate online fan source for actor and model, Robert Pattinson. Robert shot to fame in 2008 when he started as Edward Cullen in the Twilight saga movie franchise. you may also know him from other movies including Good Time, The Lighthouse, The Rover, Maps To The Stars, life, Remember Me, High Life, to name a few. Robert is also the celebrity face of high-fashion campaigns for Dior. With a lot of new exciting projects coming this year, we'll bring you exclusives news. We hope you'll have a wonderful time on the site.
posted by Laura
Here is a new interview of Robert Pattinson, he talks about his preparation for 'The Batman' and about his workout regimen and his body transformation! Here are the screenshot of the interview and below how he becomes Batman! Enjoy 😀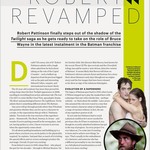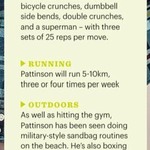 This is how Robert Pattinson becomes The Batman
GYM

Getting abs, fast, has involved a regular five-minute cardio workout, then a circuit og bycicle crunches, dumbbell side bends, double crunches, and a superman – with three set of 25 rep per move!

RUNNING

Pattinson will run 5-10 km, three or four times per week.

OUTDOORS

As well as hitting the gym, Pattinson has been seen doing military-style sandbag routines on the beach. He's also boxing and has always been an advocate of long walks as a way of loosening up and freeing the mind.

DIET

The actor has cut down on alcohol and has stripped back on processed meat and fried foods as a way of accelerating his physical transformation!