Welcome to Robert Pattinson Online, your ultimate online fan source for actor and model, Robert Pattinson. Robert shot to fame in 2008 when he started as Edward Cullen in the Twilight saga movie franchise. you may also know him from other movies including Good Time, The Lighthouse, The Rover, Maps To The Stars, life, Remember Me, High Life, to name a few. Robert is also the celebrity face of high-fashion campaigns for Dior. With a lot of new exciting projects coming this year, we'll bring you exclusives news. We hope you'll have a wonderful time on the site.
posted by Laura
Good morning guys, I hope you're all taking good care of yourself. Today, you can discover a new promotional still of Robert Pattinson as Mandel in Waiting For The Barbarians! The news was just released that the film will be available on digital platforms in August this year. You can find more stills on this link. Enjoy 😀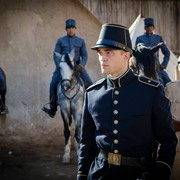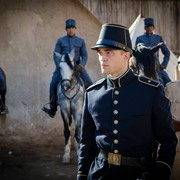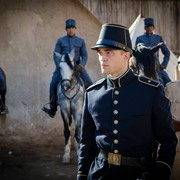 Synopsis – The Magistrate of an isolated frontier settlement on the border of an unnamed empire looks forward to an easy retirement until the arrival of Colonel Roll, whose task it is to report on the activities of the 'barbarians' and on the security situation on the border. Joll conducts a series of ruthless interrogations, which leads the Magistrate to question his loyalty to the empire.
Source